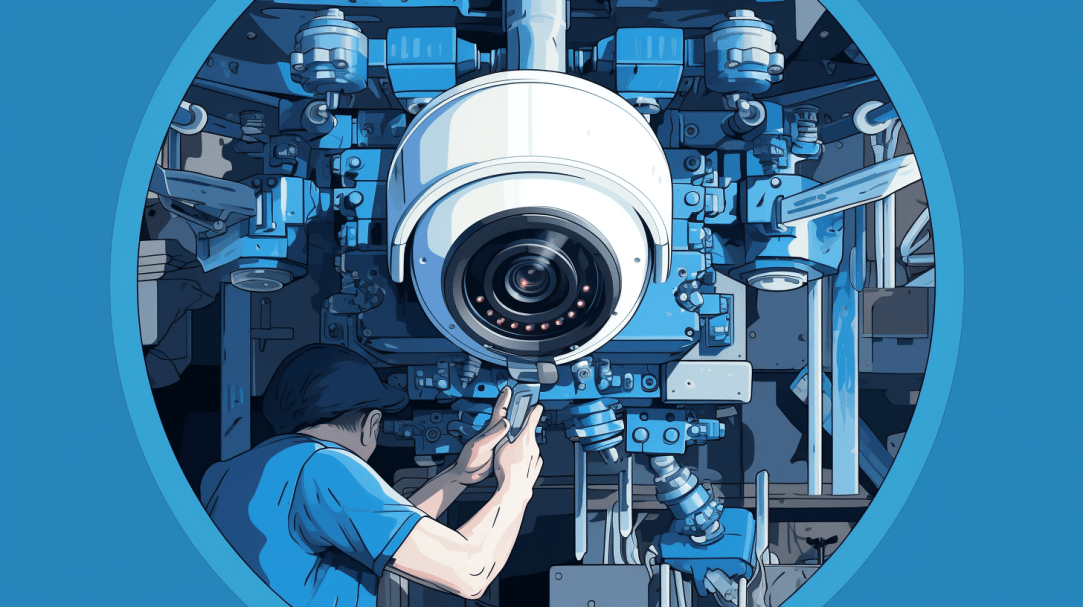 On the street, at the entrance to public buildings, or in businesses: video surveillance cameras have proliferated in recent years. Personal protection, theft prevention, or production management: surveillance has many uses. Discover them all in this comprehensive guide.
Why install a video surveillance system?
Installing a video surveillance system offers many advantages, including:

prevention of malicious acts such as theft, assault, and damage thanks to the deterrent effect of security cameras;
personal and property safety through the surveillance of high-risk areas (parking lots, warehouses, reception halls, etc.) ;
faster identification of individuals and vehicles;
intrusion detection at entrances;
collecting evidence in the event of an incident and establishing its cause;
technical supervision of company activities (production lines, robotized equipment, etc.) ;
reinforcement of alarm systems.
What precautions should be taken when installing the device?
Installing a video surveillance system requires certain precautions to be taken:
Respect for privacy
Any video surveillance project must respect the privacy of employees and customers. It is forbidden to film people at their workstations, except in certain special cases (handling money, for example). Rest and break areas, toilets, and fitting rooms may not be equipped with video surveillance cameras either. It should be noted that cameras are also prohibited in union or employee representative premises. In all cases, employees and customers must be informed of the existence of the cameras.
Determining who will view images

Before embarking on a video surveillance installation, it's important to determine who will be able to view the recorded images. Only the employer and employees designated by the employer will have access to the recordings. Each of them will be trained and made aware of the principle of video surveillance. If the video surveillance system can be accessed remotely, access to the images must be secured. Good to know: video surveillance systems do not record sound. However, this function can be activated in the event of aggravated robbery. However, it must be reserved for specific situations to prevent abuse.
Define the retention period for videotapes

It is up to the employer to decide how long to keep the images recorded by the video surveillance system. In general, videotapes are kept for no longer than one month. A few days' storage is usually sufficient, except in the case of major events requiring the processing of recorded data. In this case, recordings can be kept for longer. A register dedicated to image storage and processing must be kept up to date.
What are the regulations governing the installation of a video surveillance system?
To install a video surveillance system, you need to define the reasons and objectives. Whatever the motivation, it must be legal and legitimate. All persons working on site, and customers in the case of retail outlets, must be informed of the presence of surveillance cameras by means of clear, visible signage. These are the rules governing video surveillance in shops. These signs will explain:

the reason for the presence of the video surveillance equipment;
how long the recordings are kept;
the identity of the Data Protection Officer (DPO);
Whatever type of camera you choose, it will have to comply scrupulously with the European Data Protection Regulation (GDPR).
The different architectures for installing a video surveillance system
There are two options for implementing a video surveillance solution: closed and open circuits.
Closed circuit installation
This system, also known as CCTV (Closed Circuit Television), is based on the principle that recorded images are not broadcast outside the structure (company, organization, establishment, etc.). The surveillance cameras are linked together on a single internal network. The closed circuit does not allow images to be viewed remotely. Historically, this was the first type of video surveillance equipment to be created.
Open circuit installation
The open circuit system, also known as OCTV (Open Circuit Television), works in reverse. Developed with the creation of the internet, it has grown even more with broadband. Remote control, remote surveillance, simultaneous surveillance of several sites: the open circuit is a powerful tool for controlling your video surveillance system from a smartphone.
The hardware you need for your video surveillance system
For an effective video surveillance system, a number of hardware components need to be installed:
one or more cameras, depending on the areas to be monitored;

dedicated video management equipment, such as a computer or specialized software;
equipment for viewing the videos, such as a computer screen or mobile phone;
equipment for recording and storing data, such as a digital recorder.
Veesion, the smart anti-theft video surveillance system
When Artificial Intelligence (AI) meets video surveillance, the result is Veesion. AI-based video surveillance software capable of detecting and preventing shop theft. This revolutionary system gives you constant monitoring and real peace of mind. More than 2,500 retailers are equipped with this video surveillance system for pharmacies, supermarkets, and shops. Contact us today to find out more about our Veesion product, which automatically detects theft in real time!