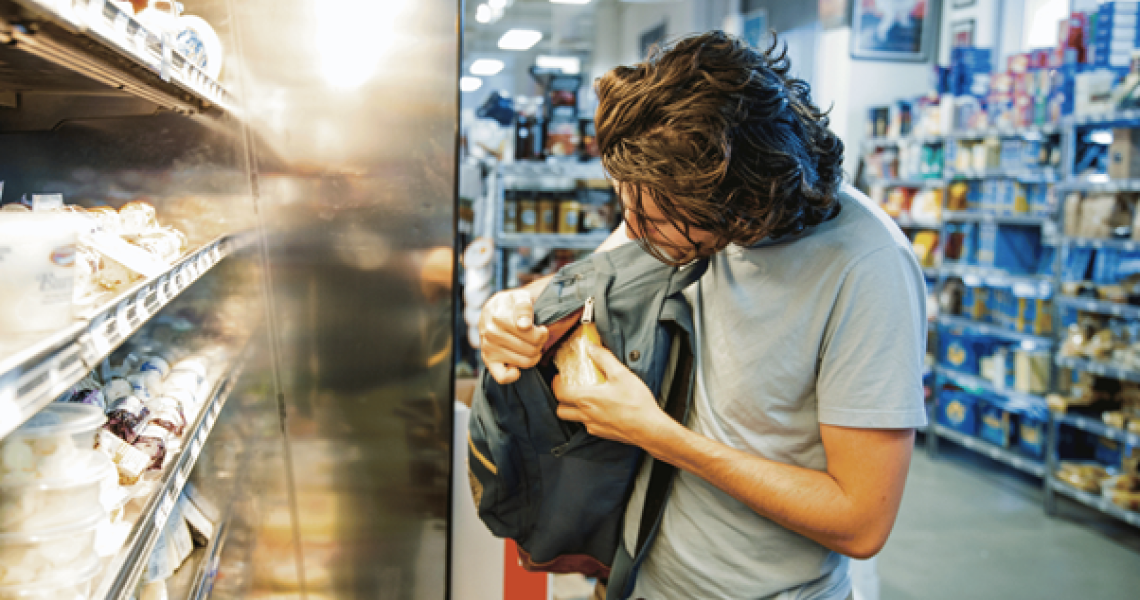 Shoplifting is clearly on the increase in the retail sector. Supermarket managers are increasingly reporting losses of goods, particularly in the food section. AI-enabled video surveillance is an effective solution for preventing theft, while respecting individual privacy.
Shoplifting in supermarkets: the state of play
Many supermarket managers are faced with the problem of shoplifting. According to figures from the French Interior Ministry, in-store theft rose by 14% in 2022. Inflation is particularly being blamed, with the food section particularly hard hit. Testimonies agree that there's no typical shoplifter profile: anyone who enters a store may potentially be a shoplifter.
In an attempt to curb this scourge and the associated loss of earnings, anti-theft systems such as security tags are being used more and more, including on food items. But there are actually other, more discreet solutions available that don't impose any constraints on supermarket staff. These solutions work to promote theft prevention, and avoid police intervention. They also save staff time at checkouts.
How does AI-enabled video surveillance work in supermarkets?
Supermarkets have long used security cameras and CCTV equipment. These act as a deterrent, and enable security staff to monitor aisles. Security guards can then intervene if an individual is seen behaving suspiciously or is actually spotted shoplifting.
However, owing to staff shortages, or because the human eye is not perfect when it comes to spotting suspicious individuals, shoplifters still manage to get away with a lot of items from stores. In-store theft clearly affects a supermarket's sales figures, and is reflected in the constantly increasing rate of shrinkage. This has spurred the development of AI-enabled video surveillance.
How can AI-enabled video surveillance enhance supermarket security?
The main aim of the AI technology developed by Veesion, a French company, is to prevent shoplifting by detecting suspicious behaviour. The technology is designed to assist the security team, and boost the efficacy of the store's CCTV system. To take advantage of this AI technology, a store doesn't have to invest in new security equipment. The technology can be installed directly on a store's existing cameras and video recorder.
Artificial Intelligence is not designed to replace, but to support supermarket staff. Its purpose is to identify behaviour associated with shoplifting by analysing the live footage captured by CCTV cameras.
The supermarket manager or security guards receive a video alert whenever an anomaly (suspicious behaviour) is detected. This enhances their ability to monitor the supermarket, and react more swiftly whenever a potential shoplifter is spotted. If deemed appropriate and with the video footage in hand to back up the charge, they can then challenge the suspected shoplifter while still in the aisle or at the checkout.
How can AI be used to combat shrinkage in supermarkets?
Shoplifting is partly responsible for shrinkage. However, with AI, it's possible to reduce product loss in two ways: prevention and/or recovery. AI-enabled video surveillance helps to reduce theft in supermarkets by detecting more incidents of attempted shoplifting. As a result, security guards can potentially intervene more often, which can in itself act as a deterrent.
In addition, video images and footage are considered admissible evidence in a shoplifting charge. This video footage evidence can be presented to the suspected offender and an out-of-court arrangement reached, with the goods either being returned or paid for. The footage can also be used in legal proceedings should the supermarket decide to file a complaint and a claim for damages with the police.
AI that works to respect the privacy of customers and employees
As supermarkets are considered public places, there are regulations that managers should be aware of before deploying security cameras. French law and European regulations also require precautions to be taken to ensure that people's privacy is respected and that any data or images are processed fairly and lawfully.
Installing security cameras in a retail store
In France, a number of formalities need to be carried out before installing cameras. Stores are required to obtain authorisation from the nearest prefecture. They are also required to inform and consult the store's staff representative bodies.
By law, signs should be visibly displayed in the store, notifying staff and shoppers about the presence of surveillance cameras. It's illegal to place security cameras in changing rooms or toilets, or to use them to monitor employees.
Right to be informed and personal data
By law, customers must be informed about how security camera footage is used. European rules on the protection of personal data require store managers to appoint a person responsible for processing video images and footage. These images and videos cannot be made freely accessible. The French National Commission for Data Protection and Liberties (CNIL) recommends that video images and footage not be kept for more than 30 days unless required for legal proceedings.
No facial recognition
The AI technology developed by Veesion is a non-intrusive video surveillance solution. Veesion is committed to ensuring high ethical standards. Veesion technology is not designed to identify individuals; it is not based on a facial recognition algorithm. Only an individual's body movements and gestures are analysed. Similarly, the software does not allow for customer tracking or identity registration.
Testimonial from Julien, supermarket manager
Julien is the manager of a franchised supermarket store that serves over 2,000 customers a day, and which is located opposite a secondary school. In this video, he shares his experience after installing the Veesion software in his store.
Technology that's super easy to install and use: Julien emphasises how easy it was to install AI on his store's security camera system.
The problem of the store's opening hours: Julien explains how, because of the store's opening hours, it can be difficult to assign staff to store security. AI can be activated round the clock 24/7.
Product loss noticed during stocktakes: AI offers immediacy and the ability to take action on the spot. This makes it easier to recover stolen goods.
Saves time: with Veesion technology, cashiers save time at the checkout. They no longer have to ask each customer to open their bags.
Support for security guards: Julien tells us that most security guards receive a bonus based on the number of individuals caught shoplifting. AI can help them to catch more individuals.
Prompt alerts: as soon as suspicious behaviour is detected by the AI technology, an alert is sent to the security guard's smartphone within 30 seconds. The technology also makes it possible to generate statistics on the number of shoplifters caught, or the value of goods recovered.
This interview shows how AI can play a full role in helping to detect shoplifting, while respecting the privacy of shoppers and employees. By working to increase the number of shoplifters caught, it has a direct impact on reducing shrinkage. Having the video footage showing the incident makes it easier to confront any suspected shoplifter and back up the charge. The store can then try to engage in a dialogue with the individual to recover the concealed items or request their payment, without the need to involve the police.
Are you interested in Veesion technology to secure your retail business? Don't hesitate to ask for a demo. Our team is also on hand to answer any questions you may have.